Side Door to Heaven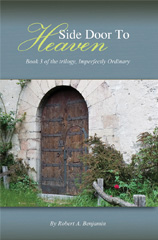 What would you do if the end of a promising childhood as the son of a conservative old New England family found you fighting to recover from being a college dropout, skirting the sharp edge of mental illness, and then having a promising young marriage fail? What if you drove yourself to return to college, entered your chosen profession, and then discovered that in clearing away the ghosts of those unhappy experiences you'd thrown away everything you'd gained?
What if you uprooted yourself from everything that defined your life so far and moved across a continent for a fresh start, only to discover that through coincidences of circumstance and emotional baggage, nobody cared about any of that? Would that have been the time to drop out, sink down, get drunk or maybe stoned or even worse?
It would…but it didn't. The first book of my Imperfectly Ordinary Trilogy, A Gift of Dreams, traces the events of my life from my days as a boy who could not fit into the place conservative New England society made for me, who could not dare to accept the possibility that I had been given the soul of an artist. My second book, I Promised You Daisies, recounts my efforts as a young adult in the Boston of the 1960's to fix it all without yet having understood what was wrong.
This third book, Side Door To Heaven, shares my experiences of trying to put life back together after being slapped down repeatedly by circumstance and bad choices. Only after years of refusing to give up believing that my life was indeed supposed to be more than ordinary was I able to appreciate what had happened to me, why I am the way I am, and what I am supposed to do about it.
Side Door To Heaven is also the story of a remarkable woman…a friend who eventually became my wife and my soul mate, who saw in me the promise of wonderful things I'd barely imagined before I met her and would never have dared to realize without her at my side.
Available for Purchase today at: